Another week, another
fun
caption contest!
I know what you're thinking - Dave must have writer's block.
Of course
this is not the case, I've brought back the caption contest BY POPULAR DEMAND.
AND I have writer's block. Sue me.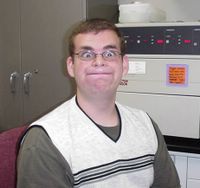 Your creativity on this one won't require any prompting from me.
Best one wins. I've primed the pump with my own entry, I just couldn't resist.
*I have no idea who this poor guy is, but we'll have fun at his expense*
***